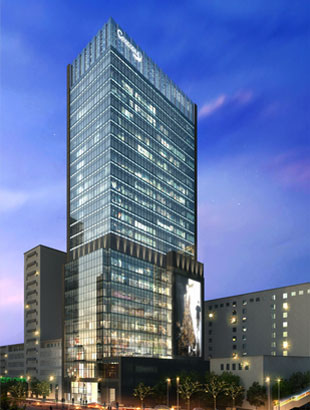 Property Highlights
- covered footbridge connected with APM at 1/F opened to the public 24 hours a day,
7 days a week
- next to MTR Kwun Tong Station
Property Particulars
[Download PDF]
Retail & Restaurant Leasing Package
Management Fee & Air-Conditioning Charges
HK$11.3 / sq.ft.
Promotion Levy
HK$1.20/sq.ft.
Air-conditioning supply time
11:00am - 12:00mn
Rates & Government rent
Borne by Tenant
Term of Tenancy
G/F - 1/F: 2 years
2/F - 9/F: 3 years
Tenancy Deposit
3 months' rent, management fee, air-conditioning charges, promotional levy and 1 quarter of Rates & Government rent
Units
Gross Area
(sq.ft.)
Rent Free
HK$/ sq.ft.
Date Available
Existing Condition
8/F Whole Floor
10,680
By offer
By offer
Immediate
---
For leasing enquiries, please contact Mr. Calvin Yu at (852) 2745 7118.

Car Park
Parking Fee Schedule

Private Car/Van
Monthly (HK$)
Non-reserved space
$3,600
Hourly (HK$)
---
$26
Night Park (HK$)
(22:00 - 08:00)
$60
Lorry
Hourly (HK$)
---
$30/Half-Hour
Car perk entrance:No. 79 Hoi Yuen Road, Kwun Tong, Kowloon
Enquiry: (852) 3586 9963