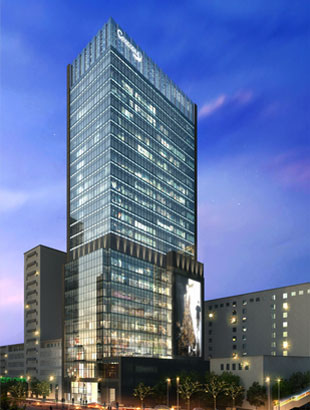 Strategically situated in the heart of East Kowloon district's development focus, simultaneously the future centre of development in Kwun Tong, Crocodile Center is right next to the planned location of a multi-billion dollar redevelopment scheme. With the completion of cruise terminals, top-rated hotels and Grade A office buildings, the area will unquestionably become the whole new town centre.

Captivatingly distinctive in architectural style, the building's Low-E, insulated glass curtain walls filter muted sunlight into the interior, allowing customers both the air-conditioned comfort of an indoor environment and the delights of an open-air atmosphere. The outer wall is equipped with LED lights to enhance the building's outline. The lobby, which is more than 13 meters high, features 3 escalators leading directly to the shopping mall – a depiction of splendour.
The 24-hour footbridge, which is connected to apm, also leads straight to the MTR station and the Hong Kong-Mainland cross-border bus stop, initiating a continuous flow of traffic and a throbbing city dynamic. The LED monitor featured on the lobby walls from the ground to the first floor is regularly updated to deliver the latest information and constant surprises.
The extra large exterior advertising billboards extend 7 floors, and directly face the MTR platform. In addition, the large numerous advertising boards located inside the mall promise tenants peak exposure.